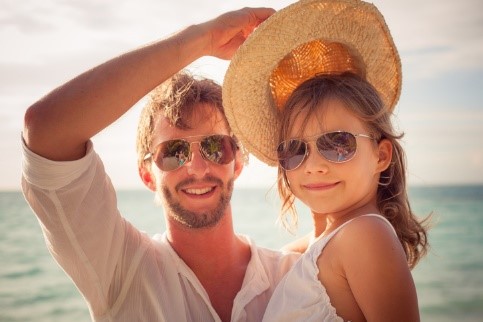 The Importance of Sunglasses for Kids
Protecting your children from the harmful effects of the sun should be top-of-mind. We all know the importance of using sunscreen, but did you know the proper use of sunglasses is just as important?
We don't often think about it, but kids are far more likely to spend extensive hours in the sun than their parents. While there are benefits to being in the sun, there are also risks. Short-term effects of too much UV light exposure include photokeratitis, also known as snow blindness; this occurs from the sun's reflection off sand, water or snow or by staring directly at the sun. The most common symptoms are temporary pain, redness, swelling, headaches and even vision loss. These symptoms can last up to 48 hours, and the severity depends on how long you were exposed to the sun unprotected. But the long-term effects of childhood sunburns and sun damage are even more detrimental and can lead to cataracts, age-related macular degeneration, pterygium or cancer later in life.
Luckily, there are things you can do to protect your children's eyes from the sun:
· Investing in quality sunglasses that offer UVB and UVA protection is critical. They should conform to the American National Standards Institute's guideline ANSI Z80.3.
· Make sure sunglasses fit properly and stay on your child's face while playing outside. The lenses should be large enough to cover their entire eye area.
· Limit sun exposure during peak UV times (10 a.m. to 4 p.m.).
· Pay attention to the UV index and minimize sun time on days when the UV index is highest.
· If you're looking for style and protection, consider mirrored or polarized options.
· It's also a great idea to have them wear a lightweight, breathable hat.
· Use an umbrella at the beach or to provide shade when needed.
It's also essential to teach kids the importance of wearing sunglasses and the risks of overexposure to UV radiation. Set a good example by wearing your sunglasses and taking other sun-protection measures. Make time to show them how to care for their sunglasses properly and keep them safe while they aren't in use. If your child wears glasses, talking to their optometrist about the best eye-protection methods is essential. Their recommendations could include prescription sunglasses, Transitions lenses, accessories or another alternative best suited to your child's needs.
Educating children early on about protecting themselves from sun damage will go a long way toward helping keep their eyes and bodies healthy into adulthood. So, make sure you always have sunscreen and sunglasses on hand for good times in the sun!
Access great benefits by becoming a member today!